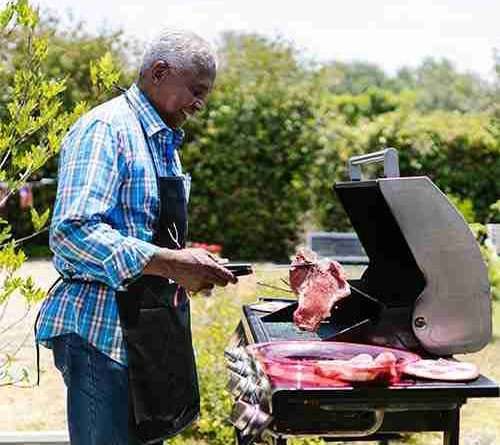 Father's Day is on its way (June 18th) — what's your plan to toast your old man? If you're looking for ideas to celebrate, here are wines and dad jokes to show your dad you loaf him!.
Which baseball player holds water? The pitcher.
If you want to score a homerun on Father's Day, share a glass of Montes Alpha Carmenère 2021 as you watch your favorite baseball team. With notes, of ripe red and black fruit, brioche, and a little hint of spice, this wine is an ideal teammate to a gameday hotdog. Cook up some hotdogs, pour your glasses, and let out your inner armchair-umpire!
Accidentally burned dinner on the grill. Missteakes were made.
If your dad gives Gordon Ramsey a run for his money on the grill, fire IT UP and get to cooking. To add to your meal, pour the BBQ boss a glass of Alta Vista Vive Cabernet Sauvignon 2021. This medium-bodied cabernet features notes of red fruit, black pepper, and toasted oak making it the perfect addition to any backyard barbecue.
What does a cow do for fun? Go to the moovies!
If your dad is an avid movie watcher, get him a glass of Norton Reserva Malbec 2020 to sip on while you watch your favorite flick. Whether you and your dad are strictly movie-theater-butter-popcorn people or you both like a variety of snacks to nibble on, this malbec has your back! With notes of black fruits, violets, cinnamon, and clove, all your movie snack pairings are covered. Assemble your treats of choice, pour your dad a glass, and put on your favorite "dude" movie. Some of our favorites are Talladega Nights, Little Rascals, Field of Dreams, and anything Marvel.
Why is Miss Piggy such a bad driver? Because all she does is hog the road!
If your dad channels his inner Max Verstappen when he's behind the wheel, take him out to the go car track. Afterwards, refuel with a glass of Medici Ermete Quercioli Secco and a cheese board. This bubbly red wine is just what any Formula One fan needs to celebrate the race on Father's Day. Dry and fruity, this wine easily pairs with grilled or cured meats as well as cheese.
What did the fish say when he hit the wall? Dam!
If your dad's favorite accessory is a tackle box or fishing rod, pick up a bottle of The Seeker Chardonnay 2022 to enjoy on a Father's Day fishing trip! This wine is a perfect addition to enjoy after a long day on the water with refreshing notes of pineapple, apple, Anjou pear, and guava with hints of vanilla. This wine will pair swimmingly with the fruits of your fishing labors (whether it be the catch of the day or store bought). No need to worry that you forgot a corkscrew either because this wine has a screw cap!
Interested in learning more or purchasing the First Apartment Wine Pack for you or your loved ones? Head on over to the Wine365 Shop for more details—Cheers!