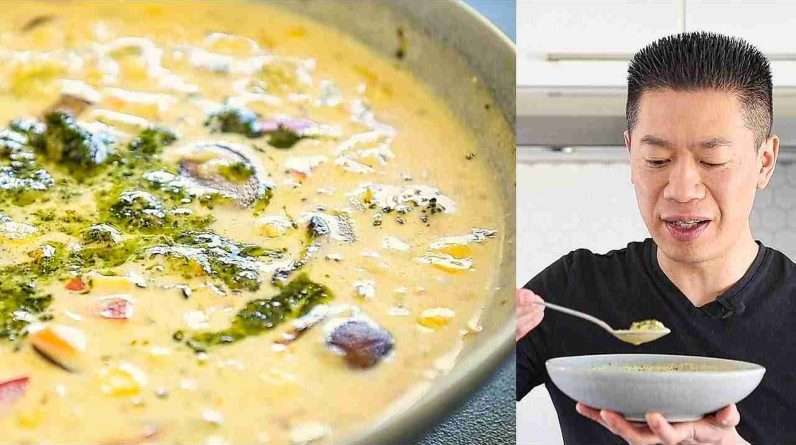 Hey there! Are you ready for a heartwarming and comforting dish? Look no further than this SOUP-ERB Creamy Vegetable Soup recipe by Yeung Man Cooking. In this episode, you'll learn how to make a deliciously creamy vegetable soup that you can cozy up to right in the comfort of your own home. With ingredients like cashews, broccoli, mushrooms, and plant-based sausages, this soup is both indulgent and uncomplicated. The recipe also includes a homemade pesto garnish that adds an extra burst of flavor. Don't miss out on this satisfying and easy-to-make soup that will warm your soul.
Introduction
Welcome to this comprehensive article on how to make an epic creamy vegetable soup! In this article, I will provide you with detailed directions and information about the ingredients needed to create this delicious and comforting soup. Whether you're a seasoned chef or a beginner in the kitchen, this recipe is perfect for you. So sit back, relax, and get ready to learn how to make a bowl of soup that will warm your heart and satisfy your taste buds.
Ingredients
Let's start by gathering all the ingredients you'll need to make this epic creamy vegetable soup. Here's what you'll need:
1 generous cup cashews
3 cups water
200g broccoli
80g cremini mushrooms
2 plant-based sausages
Drizzle + 2 tbsp avocado oil
1 onion
2 cloves garlic
2 stalks celery
1 small carrot
1/2 red bell pepper
1 tsp salt
Pepper to taste
1/2 tsp dried oregano
1L water or unsalted veggie stock
1/3 cup nutritional yeast
1 cup corn
Pesto to serve (optional)
Make sure you have all of these ingredients ready before you start cooking. Now, let's move on to the directions on how to make this delicious soup!
Directions
Preheat your oven to 375F.
In a high-powered blender, blend the cashews with 3 cups of water until liquified. If you don't have a high-powered blender, you can soak the cashews in water overnight.
Chop the broccoli into bite-sized pieces.
Slice the cremini mushrooms and plant-based sausages.
Transfer the broccoli, mushrooms, and sausages to a large mixing bowl and toss them with a drizzle of avocado oil.
Transfer the veggies onto a baking tray lined with parchment paper and spread them out. Bake in the oven for 25-30 minutes.
Finely chop the onion, garlic, celery, and carrot. Dice the red bell pepper.
Heat up a stock pot over medium-high heat and add 2 tablespoons of avocado oil. Sauté the onions and garlic for 6-7 minutes.
Season the onions and garlic with salt, pepper, and dried oregano.
Add the celery and carrots to the pot and sauté for a few more minutes.
Add the diced red bell pepper and sauté for another minute.
Add 1 liter of water (or unsalted vegetable stock) to the pot. Also, add the nutritional yeast and give the pot a good stir.
Turn the heat up and bring the mixture to a boil. Then, turn off the heat and transfer in the roasted veggies.
Pour in the cashew cream (made in step 2) while stirring.
Add the corn to the pot and turn the heat to medium. Give the pot a stir and warm up the soup for a few minutes.
Plate the soup and garnish with a dollop of pesto, if desired.
And there you have it! A delicious and creamy vegetable soup that you can enjoy on a cozy day at home. Isn't it amazing how a handful of ingredients can come together to create such a satisfying and comforting meal?
But wait, there's more! Let's delve into some additional information about this recipe and why it's truly special.
About the Recipe
This creamy vegetable soup is more than just a regular soup recipe. It carries a unique combination of ingredients and flavors that make it truly special. Here are some key points about this recipe:
The heartwarming and comforting nature of creamy vegetable soup
There's something inherently comforting and soothing about a bowl of creamy vegetable soup. It warms you from the inside out, making you feel cozy and content. This recipe takes the traditional concept of vegetable soup and elevates it to another level of comfort and satisfaction.
Flexible recipe that can be adapted to personal preferences
One of the great things about this recipe is its flexibility. You can easily customize it to suit your taste and dietary preferences. Feel free to swap out certain vegetables for others, adjust the seasonings, or even experiment with different plant-based sausages. Make it your own!
The unique addition of cashew cream for texture and flavor
What sets this creamy vegetable soup apart from others is the addition of homemade cashew cream. The cashews, when blended with water, create a luscious and creamy texture that adds depth and richness to the soup. It's a versatile ingredient that can be used in many plant-based recipes.
The option to add homemade pesto for added richness and aroma
To take this soup to the next level, you have the option to add a dollop of homemade pesto on top before serving. The pesto adds a burst of freshness, richness, and aroma to the soup. It's a simple addition that goes a long way in enhancing the overall flavor profile of the dish.
Balancing the flavors of sweet corn, smoky sausage, and earthy vegetables
This recipe brings together a harmonious combination of flavors. The sweetness of the corn, the smokiness of the plant-based sausage, and the earthiness of the vegetables all work together to create a well-balanced and delicious soup. It's a symphony of tastes that will leave you wanting more.
The simplicity and ease of making this recipe at home
Despite its impressive flavors, this creamy vegetable soup is surprisingly simple and easy to make. With just a few basic ingredients and straightforward steps, you can create a gourmet-worthy soup in the comfort of your own home. It's a recipe that anyone can master, regardless of their culinary skills.
Conclusion
In conclusion, this epic creamy vegetable soup is a must-try recipe for anyone who enjoys a delicious and comforting meal. It's visually appealing, creamy, and packed with flavors that will warm your heart and satisfy your taste buds. The flexibility of this recipe allows you to personalize it to your liking, making it a versatile and adaptable dish. So why not give it a try and cozy up with a bowl of this amazing soup? I promise you won't be disappointed.