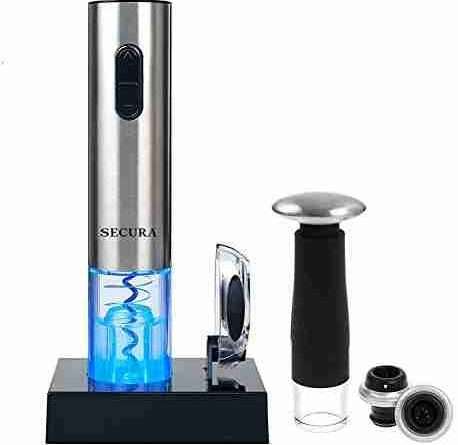 Enjoy the freshness wine, enjoy the beauty life.
NOTE:
Please charge your wine opener every three months when not in regular use, so as to extend the lifespan of the battery.
3N Electric Wine Opener
Built-in rechargeable Ni-MH battery, Secura model SWO-3N electric wine bottle opener opens up to 30 bottles on a single charge. Simple push button operation. The Secura Wine Opener has the power to remove a tough cork without causing breakage. Sleek sophisticated design.
Just 4 Steps to Open a Wine with a full Electric Wine Bottle Opener,you can taste your wine in a second while.
Vacuum Pump + 2 Wine Stoppers
Date indicator on the wine stopper helps keep track of wine freshness, so even opened bottles can be saved and enjoyed confidently up to 7 days.
Wine Pump keeps wine with natural fresh smell and original taste .
Secura Wine Saver Vacuum Pump + 2 Wine Stoppers Gift Set is the best choice for you .
Secura Electric Wine Bottle Opener Gift Set for Wine Lover (Including 1 electric wine opener, 1 foil cutter, 1 base charger, 1 wine saver vacuum pump and 2 wine stoppers)
Best Gift Set
Secura electric wine bottle opener wine gift set also can be used as a wonderful gift for wine lovers on Mother's Day, Father's Day, Wedding, Valentine's Day, Anniversary, Easter, Halloween, Christmas and other important festivals.
Easy to Use
Simply place on top of your wine bottle, press a button, and tada, your wine is open and ready to serve.
Saves Space
Our electric wine bottle opener is small enough to store discreetly away when not in use.
Color
Champagne Gold Blue Rose Gold Black Sliver
Light
Gold Light Blue Light Pink Light Blue Light Blue & Red Light
Foil Cutter
✓
✓
✓
✓
✓
Charging Stand
✓
✓
✓
✓
✓
Power Charging Socket
✓
✓
✓
✓
✓
Rechargeable Electric Wine Bottle Opener – Easily remove corks in seconds. Compatible with most wine bottle sizes. Open up to 30 bottles on a single charge.
Easy to Use – Simply place on top of your wine bottle, press a button, and tada, your wine is open and ready to serve.
Small Footprint Saves Space – Our electric wine bottle opener is small enough to store discreetly away when not in use. Keep the charging base next to your wine fridge, storage rack, credenza, etc.
Makes an Amazing Present Set – Electric wine bottle opener with vacuum pump and 2 wine stoppers, you also can use it at home, when catering, at banquets, in restaurants or behind the bar.
Reliable product and service – 100-240V wide input voltage range covers The known voltages of most places in the world. We offer 12 months and lifetime friendly customer service., $29.99, [price_with_discount]