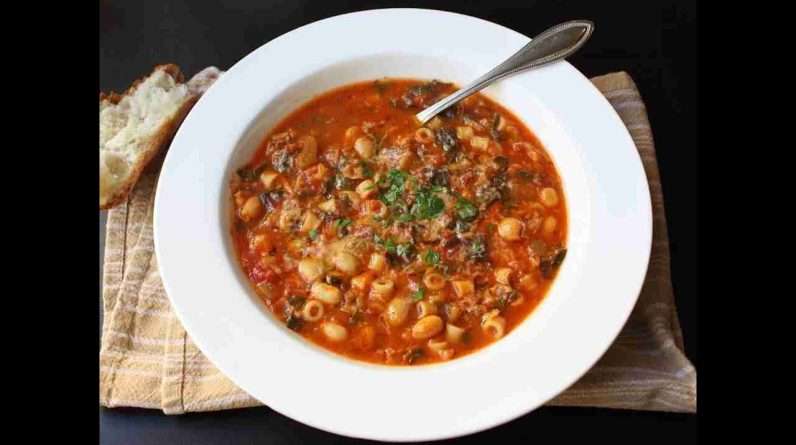 Hey there! Want to learn how to make a delicious Minestrone Soup? Well, you're in luck because I've got the perfect recipe for you. This classic Italian vegetable and pasta soup is all about big flavors and hearty ingredients. And the best part? You can make it your own by adding different vegetables or beans. In this recipe, Chef John starts by sautéing some chopped Pancetta in olive oil, then adds onions, celery, and garlic. He simmers it all with chicken broth, water, and crushed tomatoes, before adding cranberry beans, cabbage, and garbanzo beans. After simmering until the beans are tender, he stirs in some Swiss chard and cooks it for a few more minutes. Finally, he adds ditalini pasta, adjusts the seasoning, and lets it cook until the pasta is tender. Once it's ready, he finishes it off with a drizzle of extra virgin olive oil, a sprinkle of Parmesan cheese, and some fresh Italian parsley. So go ahead, grab a bowl, and enjoy this comforting and delicious soup!
Minestrone Soup: A Versatile and Delicious Italian Vegetable and Pasta Soup
Minestrone soup is a classic Italian dish that is known for its big flavors and hearty ingredients. It roughly translates to "big soup," which accurately describes the robust and satisfying nature of this dish. The best part about minestrone soup is that you can make it your own by customizing the ingredients each time you prepare it. In this article, I will walk you through a comprehensive recipe for minestrone soup, along with variations and tips to enhance your culinary experience.
Ingredients
Before we dive into the recipe, let's take a look at the key ingredients you'll need to make a delicious minestrone soup:
Pancetta
Olive oil
Onions
Celery
Garlic
Chicken broth
Water
Plum tomatoes
Cranberry beans
Cabbage
Red pepper flakes
Dry Italian herbs
Salt
Garbanzo beans
Swiss chard
Ditalini pasta
Black pepper
Extra virgin olive oil
Reggiano Parmesan
Italian parsley
These ingredients come together to create a flavorful and nutritious soup that will warm your soul.
Instructions
Now that we have our ingredients ready, let's proceed with the instructions to make the minestrone soup:
Saute Pancetta: Start by sautéing the chopped Pancetta in a little olive oil over medium heat until it is almost browned. This step will add a smoky and savory flavor to the soup.

Add onions and celery: Once the Pancetta is cooked, add diced onions and celery to the pot. Cook them for about four minutes until the onions become translucent.

Add garlic: Add minced garlic to the pot and stir it in. Cook for about a minute to release its aromatic flavors.

Pour in chicken broth, water, and crushed plum tomatoes: Add the chicken broth, water, and crushed plum tomatoes to the pot. Give everything a good stir and bring it to a simmer. This combination of liquids will create a rich and flavorful base for the soup.

Prepare the beans: If you're using cranberry beans, shell them by removing them from their pods. Add the shelled beans to the pot. You can also use canned beans if you prefer.

Add chopped cabbage and seasonings: Include some chopped cabbage to the pot, as it is a classic ingredient in minestrone soup. Season the soup with red pepper flakes, dry Italian herbs, and salt to taste. These seasonings will add depth and warmth to the dish.

Add garbanzo beans: Drain and rinse a can of garbanzo beans before adding them to the pot. These beans will provide extra substance and meatiness to the soup.

Simmer until cranberry beans are tender: Reduce the heat to medium-low and let the soup simmer until the cranberry beans become tender. This process should take approximately 45 minutes.

Prepare the greens: While the soup is simmering, prepare the greens. Wash a bunch of Swiss chard thoroughly. Slice the stems and dice them, then roughly chop the leaves. Ensure the greens are thoroughly rinsed to remove any dirt or grit.

Add greens to the soup: Once the cranberry beans are tender, add the prepped Swiss chard to the soup. Stir it in and let it simmer for about 15 minutes to allow the greens to wilt and infuse their flavors into the soup.

Cook the pasta separately: Cook the ditalini pasta separately according to the package instructions. It's essential to cook the pasta separately to prevent it from becoming overly soft in the soup.

Add cooked pasta to the soup: Once the pasta is tender, drain it and add it to the pot of soup. Stir it in gently to incorporate it evenly throughout the soup.

Adjust seasoning: Taste the soup and adjust the seasoning if needed. Add more black pepper or salt to suit your personal preferences. It's crucial to have the soup fully seasoned before adding the pasta.

Simmer until pasta is tender: Let the soup continue to simmer until the pasta is fully cooked and tender. This process should take approximately 15 minutes.

Serve with olive oil, Parmesan, and Italian parsley: To finish off the soup, drizzle some extra virgin olive oil over the top. Add a light dusting of Reggiano Parmesan cheese for added richness and flavor. Finally, garnish with some fresh Italian parsley to bring freshness and color to the dish.

Enjoy: Ladle the piping hot minestrone soup into bowls and serve it with a hearty slice of crusty bread. You're now ready to enjoy a comforting and healthy meal.
Variations
The beauty of minestrone soup lies in its versatility. Feel free to experiment with additional vegetables to customize the soup to your liking. Some suggested variations include:
Adding carrots: Dice some carrots and add them to the pot along with the onions and celery. Carrots will add sweetness and color to the soup.

Adding green beans: Trim and cut fresh green beans into bite-sized pieces. Add them to the soup along with the other vegetables. Green beans will provide a crunchy texture and vibrant green color.

Adding bell peppers: Dice leftover bell peppers and incorporate them into the soup. The pepper's sweet and tangy flavor will complement the other ingredients.

Other vegetable additions: If you have any other vegetables in your fridge that need to be used up, chop them up and toss them into the soup. This is a great way to reduce food waste and add more nutrients to your meal.
Feel free to get creative and experiment with different vegetable combinations to make each batch of minestrone soup unique.
Tips
To ensure your minestrone soup turns out perfectly, here are some helpful tips to keep in mind:
Use any canned beans: While the recipe calls for cranberry beans and garbanzo beans, you can use any canned beans that you have on hand. This allows for flexibility and convenience when preparing the soup.

Ensure greens are thoroughly rinsed: It's essential to wash the Swiss chard or any other greens thoroughly before adding them to the soup. This step removes any dirt or grit that may be present.

Add water if the soup becomes too thick: If you find that the soup becomes too thick during the cooking process, don't be afraid to add some water. It's important to have enough liquid to cook the ingredients and ensure the soup has the right consistency.

Fully season before adding pasta: Before adding the pasta to the soup, make sure it is fully seasoned. This ensures that the flavors are well-distributed throughout the dish.
By following these tips, you'll be able to create a delicious and well-balanced minestrone soup.
Conclusion
Minestrone soup is a versatile and delicious Italian vegetable and pasta soup that offers a comforting and nourishing meal option. By following this comprehensive recipe, you can create a flavorful batch of minestrone soup that will satisfy your taste buds. Don't be afraid to customize the ingredients each time you make it, and feel free to experiment with different vegetables. Enjoy this hearty and healthy soup with a side of crusty bread for a truly satisfying meal.