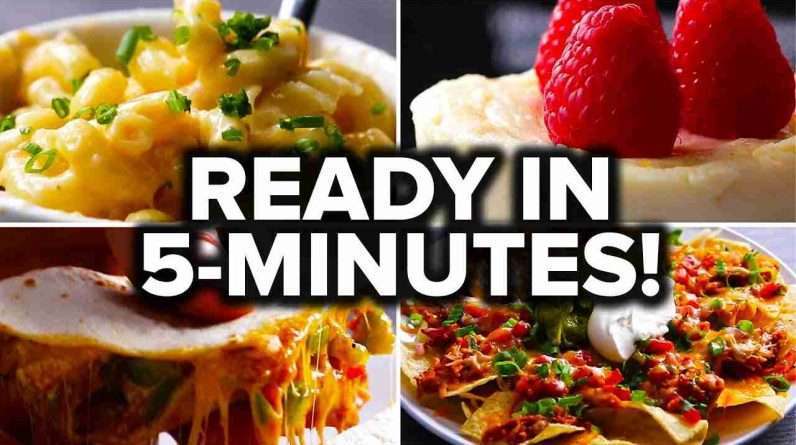 Are you tired of spending hours in the kitchen, struggling to come up with quick and delicious meal ideas? Look no further! In this article, you will discover 7 mouthwatering recipes that you can whip up in just 5 minutes. Whether you're a busy professional, a student on a tight schedule, or simply don't enjoy spending too much time cooking, these recipes are perfect for you. From savory snacks to satisfying main courses, you'll be amazed at how easy and quick it can be to create delicious meals without sacrificing flavor. So, grab your apron and get ready to impress your taste buds in no time!
The video, created by Tasty, provides step-by-step instructions for each recipe, so you can easily follow along without any fuss. Plus, you'll find the link to their Facebook page where you can discover even more tasty recipes to try. So, get ready to become a master chef in just 5 minutes! Exciting, isn't it? Let's dive into the kitchen and explore these incredibly convenient yet delectable recipes. Get ready to revolutionize your cooking game and satisfy your hunger in record time!
7 Recipes You Can Make In 5 Minutes
Recipe 1: Avocado Toast
Are you looking for a quick and delicious breakfast option? Look no further than Avocado Toast! This trendy dish is not only incredibly simple to make, but it's also packed with nutrients. Here's how you can prepare this tasty treat in just 5 minutes:
Ingredients
1 ripe avocado
2 slices of bread (whole wheat or your preferred type)
Salt and pepper to taste
Optional toppings: sliced tomatoes, feta cheese, red pepper flakes, etc.
Instructions
Start by toasting the bread to your desired level of crispness.
While the bread is toasting, cut the avocado in half, remove the pit, and scoop out the flesh into a bowl.
Mash the avocado with a fork until it reaches your desired consistency. Add salt and pepper to taste.
Once the bread is toasted, spread a generous amount of mashed avocado onto each slice.
Add your favorite toppings, such as sliced tomatoes or crumbled feta cheese.
Optionally, sprinkle some red pepper flakes for an extra kick of flavor.
Enjoy your Avocado Toast right away!
Recipe 2: Greek Yogurt Parfait
For a refreshing and nutritious snack or dessert, try making a Greek Yogurt Parfait. With just a few simple ingredients, you can create a beautiful and satisfying treat in no time!
Ingredients
1 cup of Greek yogurt
1/4 cup of granola or your favorite cereal
1/2 cup of mixed berries (such as strawberries, blueberries, and raspberries)
Honey or maple syrup for drizzling (optional)
Instructions
In a glass or bowl, layer half of the Greek yogurt at the bottom.
Sprinkle half of the granola or cereal over the yogurt.
Add half of the mixed berries on top of the granola.
Repeat the layering process with the remaining ingredients.
If desired, drizzle some honey or maple syrup over the top for added sweetness.
Serve immediately and enjoy the creamy and flavorful Greek Yogurt Parfait!
Recipe 3: Caprese Salad Skewers
Get your taste buds ready for a burst of fresh flavors with Caprese Salad Skewers. This appetizer or snack is not only delicious but also visually appealing. Impress your guests or satisfy your own cravings with this vibrant dish!
Ingredients
Cherry tomatoes
Fresh mozzarella cheese balls (or cut a larger mozzarella into bite-sized pieces)
Fresh basil leaves
Balsamic glaze or reduction
Toothpicks or small skewers
Instructions
Assemble the skewers by threading a cherry tomato onto a toothpick, followed by a piece of mozzarella, and then a basil leaf.
Repeat the process until you've used all the ingredients.
Drizzle the Caprese Salad Skewers with balsamic glaze or reduction.
Arrange the skewers on a platter and serve them immediately.
Enjoy the combination of juicy tomatoes, creamy mozzarella, fragrant basil, and tangy balsamic glaze in every bite!
Recipe 4: Quick and Easy Pasta
When you're short on time but craving a hearty meal, Quick and Easy Pasta is the way to go. With just a handful of ingredients and minimal preparation, you can whip up a satisfying dish that will leave you feeling satisfied and ready to tackle the rest of your day!
Ingredients
Your choice of pasta (spaghetti, penne, or any other variety)
Olive oil
Garlic, minced
Cherry tomatoes, halved
Fresh basil leaves, torn or chopped
Salt and pepper to taste
Grated Parmesan cheese (optional)
Instructions
Cook the pasta according to the package instructions until al dente. Drain and set aside.
In a large pan, heat olive oil over medium heat and add the minced garlic. Sauté for a minute or until fragrant.
Add the cherry tomatoes to the pan and cook for another 2-3 minutes until they start to soften.
Toss in the cooked pasta and torn basil leaves. Season with salt and pepper.
Stir everything together until well combined and heated through.
If desired, sprinkle some grated Parmesan cheese over the top.
Serve your Quick and Easy Pasta immediately and savor the simplicity and deliciousness of this speedy meal!
Recipe 5: Salsa and Guacamole
Spice up your snack time with a homemade Salsa and Guacamole duo. These classic dips are perfect for parties, movie nights, or simply when you're craving something flavorful and zesty. Get ready to impress your taste buds!
Ingredients
For the Salsa:

Tomatoes, diced
Red onion, finely chopped
Jalapeno pepper, finely chopped (seeds removed for less spiciness)
Fresh cilantro leaves, chopped
Lime juice
Salt and pepper to taste

For the Guacamole:

Ripe avocados
Red onion, finely chopped
Lime juice
Garlic powder
Salt and pepper to taste
Optional add-ins: diced tomatoes, chopped jalapenos, etc.
Instructions
Salsa:
In a bowl, combine the diced tomatoes, finely chopped red onion, jalapeno pepper, and chopped cilantro.
Squeeze in fresh lime juice and season with salt and pepper to taste.
Mix everything together until well combined.
Allow the flavors to meld by refrigerating the salsa for around 30 minutes before serving.
Guacamole:
In a bowl, scoop out the flesh of ripe avocados and mash it with a fork.

Add in the finely chopped red onion, lime juice, garlic powder, salt, and pepper.

For added flavor and texture, feel free to mix in diced tomatoes or chopped jalapenos.

Stir everything together until well incorporated.

Serve your homemade Salsa and Guacamole with tortilla chips or as accompaniments to your favorite Mexican-inspired dishes. Enjoy the vibrant colors and bold flavors!
Recipe 6: Fruit Smoothie
When you need a quick, refreshing, and nutritious pick-me-up, a Fruit Smoothie is an excellent choice. Packed with vitamins and minerals, this smoothie will give you an instant energy boost and quench your thirst.
Ingredients
1 cup of mixed frozen fruits (such as berries, mango, and pineapple)
1 ripe banana
1 cup of your choice of liquid (dairy milk, almond milk, coconut water, etc.)
Optional add-ins: spinach, Greek yogurt, chia seeds, honey, etc.
Instructions
In a blender, combine the mixed frozen fruits, ripe banana, and your choice of liquid.
If you want to boost the nutrition in your smoothie, add in some spinach or Greek yogurt.
For extra fiber and omega-3 fatty acids, sprinkle in chia seeds.
If you prefer a touch of sweetness, drizzle in some honey.
Blend everything until smooth and creamy.
Pour your Fruit Smoothie into a glass and savor the refreshing taste of the blended fruits. Enjoy it as a quick breakfast or a refreshing snack!
Recipe 7: Peanut Butter Banana Wrap
If you're in need of a quick and satisfying lunch or snack, the Peanut Butter Banana Wrap is a fantastic option. The combination of creamy peanut butter and sweet bananas will treat your taste buds while keeping you feeling full and energized.
Ingredients
Tortilla or wrap of your choice
Peanut butter (smooth or crunchy)
Banana, peeled
Optional add-ins: honey, granola, sliced strawberries, etc.
Instructions
Lay the tortilla or wrap flat on a clean surface.
Spread a generous amount of peanut butter evenly across the tortilla or wrap.
Place a whole peeled banana near one edge of the tortilla.
If desired, drizzle some honey over the banana or sprinkle granola for added crunch.
Gently roll the tortilla or wrap, starting from the edge with the banana, until it is tightly wrapped.
Slice the Peanut Butter Banana Wrap into bite-sized pieces or enjoy it as a full wrap.
Indulge in the creamy, sweet, and slightly salty combination of peanut butter and banana. Perfect for a quick and delicious meal or snack!
Conclusion
No matter how busy your schedule is, you can still enjoy delicious meals and snacks in just 5 minutes! These 7 recipes offer a variety of flavors and ingredients, catering to different tastes and dietary preferences. Whether you're in the mood for something savory like Avocado Toast or a refreshing treat like a Fruit Smoothie, these quick and easy recipes are sure to satisfy your cravings. So go ahead and give them a try – you'll be amazed at how tasty and convenient they are!